Nordwest Zeitung is a large regional news publisher in north-west Germany. The daily paper is published in seven regional editions six times a week, with a paid circulation of around 120,000. The Web edition of the daily, NWZonline, has over 2 million monthly visits and carries national and local news as well as classified advertising for cars, jobs and property.
The daily has been using the Méthode platform for its print production since 2010. It has recently extended the platform with EidosMedia's dedicated Web CMS, the Méthode Portal Server.
This has allowed a high degree of automation in the management of online publication. Rich local content is published to hyperlocal pages with the minimum of manual intervention.
The relevance of the published content is ensured by tagging of the candidate stories using automatic metadata assignment. Once tagged, the news items are guided to the appropriate pages and published according to a schedule which is also determined by their metadata tagging.
The tagging includes the following parameters:
Geo-data: determining on which local pages the story should appear. There are about a hundred micro-sections, each corresponding to a single town or district.
Priority: in what position on the page it should appear;
Timing: how soon it should be published and how long it should stay on the page.
Geographical relevance is determined by the story's geodata, as well as by the names of people, organizations and places flagged up by semantic parsing. The position on the page is determined by the length of the story, and its page placement in the print edition. The timing of publication is calculated by an algorithm that takes into acount the time stamp and applies positive and negative weightings depending upon priority and text length.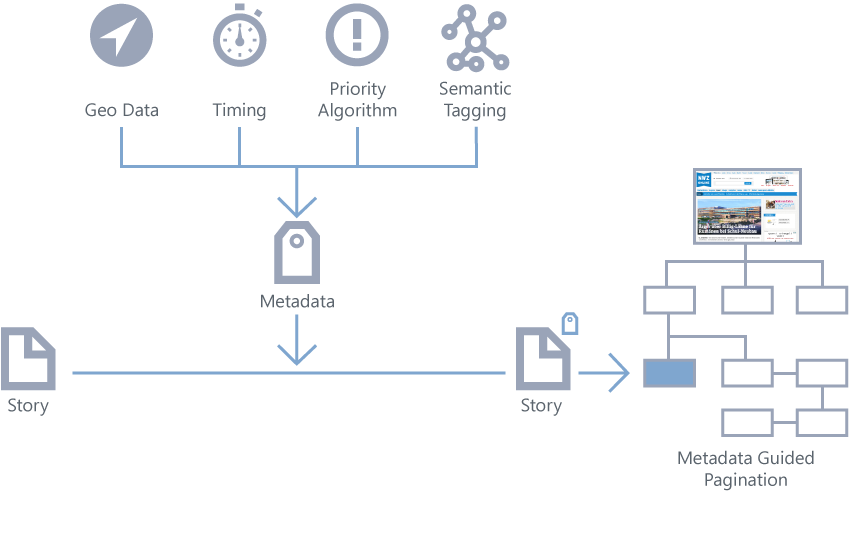 The high level of automation allows a carefully curated website to be published with minimal staff intervention. Each day the site publishes nine hundred pages of local content most of which is selected and paginated entirely automatically.
The semantic parsing and metadata tagging is also used to generate 'topic pages' that bring together information on people, places and organizations. Readers access these 'topic pages' by clicking on "More about …" links under the news items that mention them.