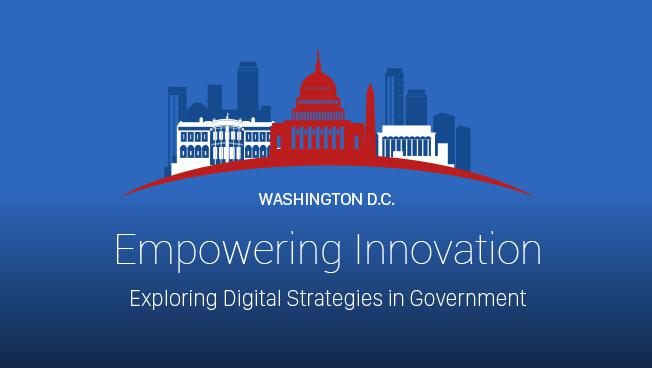 Washington, D.C., March 08, 2017 – Eidosmedia Inc. recently hosted its inaugural public sector conference, "Empowering Innovation in Government," building on its annual series of events that otherwise cater to media and investment clients worldwide.
Eidosmedia's federal business partners and select agencies gathered in Washington D.C. at the National Press Club – a nod to the company's roots in media – to discuss digital transformation in the federal market and the role that advanced technologies can play in streamlining business operations.
Tarrazzia Martin, the senior technical advisor to the U.S. Department of Housing and Urban Development, dubbed as the government's "Transformation Queen," led the keynote discussion on the challenges and opportunities facing the public sector's IT modernization efforts. The Eidosmedia team followed with an in-depth demonstration of Méthode's capabilities as an end-to-end solution for digital content services, and overview of product and service offerings through its business partner network, which includes A&T Systems Inc., NTVI Federal Inc., and Tagence Inc.
"Méthode has been successfully transforming newsrooms and financial institutions for nearly two decades so the public sector was a natural next move," said Steve Ball, general manager for Eidosmedia Inc. "Our experience navigating highly regulated industries on a global scale has positioned us as a leader in the market, and we recognize a tremendous opportunity to help federal agencies modernize their technology and business operations.
The Méthode solution differentiates itself by converging advanced multi-format, multi-channel content delivery with highly configurable, team-oriented workflow orchestration and a flexible, API-equipped technological framework.
Developed as a digital-first content management and communications tool, Méthode uses a segmented content structure that allows for a single source of information to be formatted and disseminated across multiple destinations (print, PDF, mobile outputs, email, web portals, encrypted feeds) and tailored for different audience groups. All its capabilities are layered under advanced security controls and compliance features, including full audit tracking, applied at the component level.
Built on an open framework, the platform was developed to evolve with advancing technologies and integrate with other systems, making it a solution for today's business and tomorrow's.
"Méthode's position as a long-term solution is key. Some of our clients have reorganized their business and workflow multiple times; Méthode easily adapted to their new processes, each and every time," added Ball.
Find out more about Eidosmedia government CMS and structured content authoring solutions for the public sector at www.eidosmedia.com/public-sector .