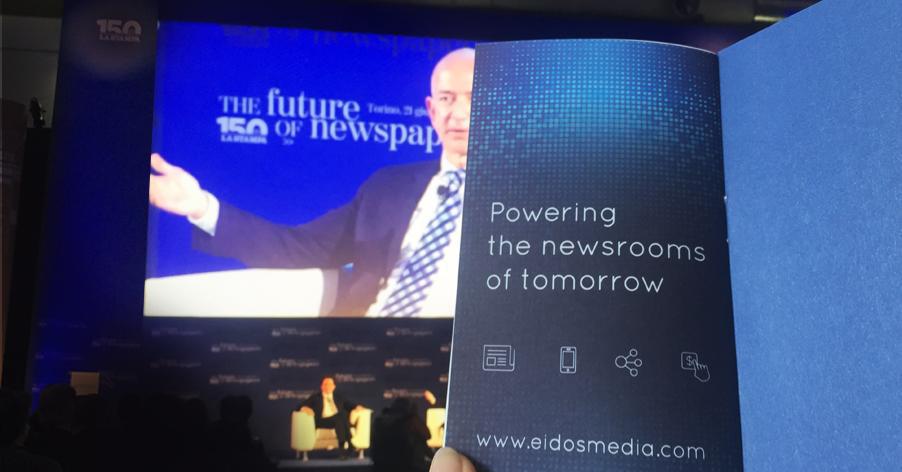 "Do we still see a future for newspapers? Very much so," said Lionel Barber, editor of the Financial Times, one of over 20 authoritative speakers from the world of news publishing gathered in Turin, Italy to celebrate the 150th anniversary of daily La Stampa. His optimism was echoed by Jeff Bezos, owner of the Washington Post, who revealed that the paper had increased its editorial staff by 140 over the last two years.
"In spite of the many challenges facing the news media sector, there was enormous positive energy at the conference and some interesting new ideas – it was also clear that no single business model fits all," said Christian Pelanconi, CEO of Eidosmedia, one of the event's sponsors. "As suppliers of publishing technology to over half of the organizations present, we are proud to have enabled the success of so much quality news and journalism."
Eidosmedia's Méthode publishing platform is used by the Financial Times, La Stampa, the Washington Post, Le Monde, the South China Morning Post and the Hindustan Times, as well as several other news organizations represented at the event.
"One of Méthode's strengths is that it is flexible enough to adapt to the wide variety of business models used by these organizations," said Massimo Barsotti, Eidosmedia Chief Marketing Officer. "Our solutions leave news producers free to create the right mix of channels and formats for their market as their strategies evolve. Our aim is to keep our customers competitive and productive in today's rapidly evolving media landscape."
Find out more about Eidosmedia digital content management and delivery solutions for news and media companies