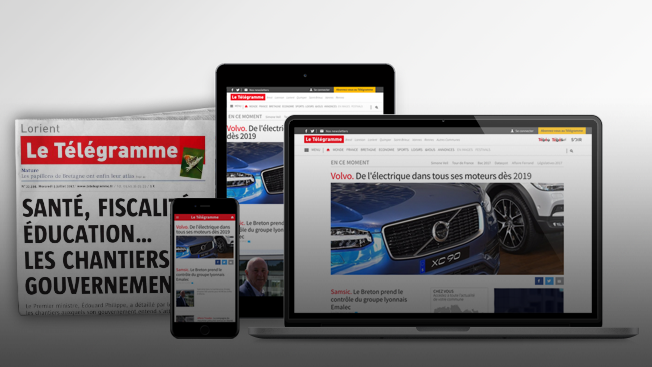 Based in Brittany in the extreme west of France, Le Télégramme serves a wide community of readers with a daily newspaper, a web edition and mobile and tablet apps, in addition to two local TV stations. It is France's 6th largest regional newspaper with a daily circulation of 200,000 copies.
As part of a strategic reorganization of its newsroom and technology, Le Télégramme has chosen the Méthode publishing platform as a basis for the integration of its news processes into a single digital operation.
The new platform will allow Le Télégramme's print editions and online products to be generated from a single digital workflow accessible from the central newsroom in Morlaix and local offices located throughout the region. Journalists outside the newsroom will also use mobile and tablet apps to create and file multimedia news articles from any location with a network connection.
The print newspaper is produced in 19 different editions, varying both in editorial and advertising content. These variations will be created and managed using Méthode's powerful multi-edition management space, accessible from all editorial locations and trackable using Méthode's mobile apps from outside the newsroom.
"We are expecting significant gains in efficiency and productivity from the integration process," said Edouard Coudurier, Le Télégramme CEO. "We chose this solution after a long period of testing and assessment with a number of promising candidates. Méthode offered us the combination of power and flexibility we were looking for."
Le Télégramme uses contributions from an extensive network of local correspondents. The mobile apps will allow some of these external contributors to be given controlled access to the workflow for a more efficient collaboration than the usual exchange of emails.
"Le Télégramme has an attractive portfolio of news products carefully focused on the needs of its reader communities", said Guillaume Clement, Eidosmedia general manager in France. "The move to Méthode will make the whole operation faster and more productive, as well as providing a firm basis for the development of future products and formats."
The platform will serve around 240 journalists located at the paper's main newsroom and in local offices around the region.