One of the first external applications to be integrated into the Eidosmedia editorial workspaces was Microsoft Excel™. Considered an essential tool for financial reporting, one-click import of its charts and tables was fundamental for analysts creating research and guidance for investors.
More recently the integration was extended to assets created using the R and Python platforms (see last week's post). These later extensions made use of a new generalized framework designed to provide customized linking to assets from a wide range of external sources.
Standards and ease of use
Known as External Object Linking (EOL), the new framework establishes a standard REST connection with the library housing the external assets. The application creates a user-friendly panel within the workspace displaying available assets or search results. The user imports assets from the panel into the open document using a point and click action. Assets reformat automatically to fit the context and the destination. Eidosmedia customers are already using the EOL to link data sources and visualization tools into their editorial workspaces. The link with the external libraries is a dynamic one - at any time, users can update the asset to align it with the source object or import and use the data underlying the object.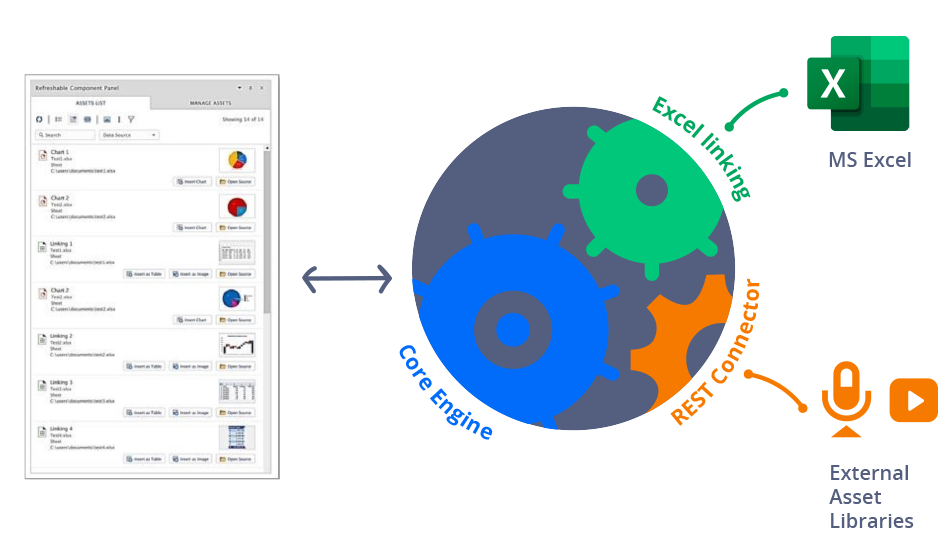 Methodè External Object linking Diagram
Next step - podcasts and video
In addition to data and visualizations, the framework is easily customized to provide linking with multimedia libraries. This opens up the possibility for authors to include podcasts and videos in their reporting. Using the EOL framework, authors can embed such media into the body of the report, before distributing it in a variety of product formats from web pages to mobile and voice-based applications.
Adding value - easily
This has important implications for research companies' ability to monetize their content. The ease of customizing the EOL framework speeds the introduction of new content formats into the product portfolio, making it increasingly simple for organizations to add value to their end-user experience.
Want to learn more about Financial publishing?
Read the case study: Financial Reporting & Analysis