Internet usage soared during pandemic-driven lockdowns as people who normally would have eschewed digital banking or food delivery apps turned to digital solutions to get everyday tasks done. Meanwhile, streaming entertainment and virtual calls became the norm.
While much of this is still true, a new phenomenon is getting attention. In a development that has been called "The Worldwide Ebb," a recent report reveals a fall in the amount of time people spend online and a significant shift in what they do there.
Is this just a "post-pandemic" inevitability or are there other factors at play? Let's explore what is behind this digital media trend and its implications for the future of the media business.
Changing digital media trends
At the beginning of 2022, the number of global internet users continued to climb. As the "Digital 2022: Global Overview Report" found, the number of internet users grew to 4.95 billion — roughly 62% of the population — representing a 4% increase YOY. But newer data suggests those growing numbers don't tell the full story.
According to a recent report from audience research company GWI, "Connecting the Dots", we may have hit a tipping point. The number of new users may continue to climb, but veterans of the world wide web are changing their online behavior. According to the report, "The way we use and even feel about [the internet], however, has changed. It's become less functional, with fewer using it to browse and search for information. Time online has hit a ceiling; be that on social media or the internet in general, a potential side-effect of growing distrust in the things we see online."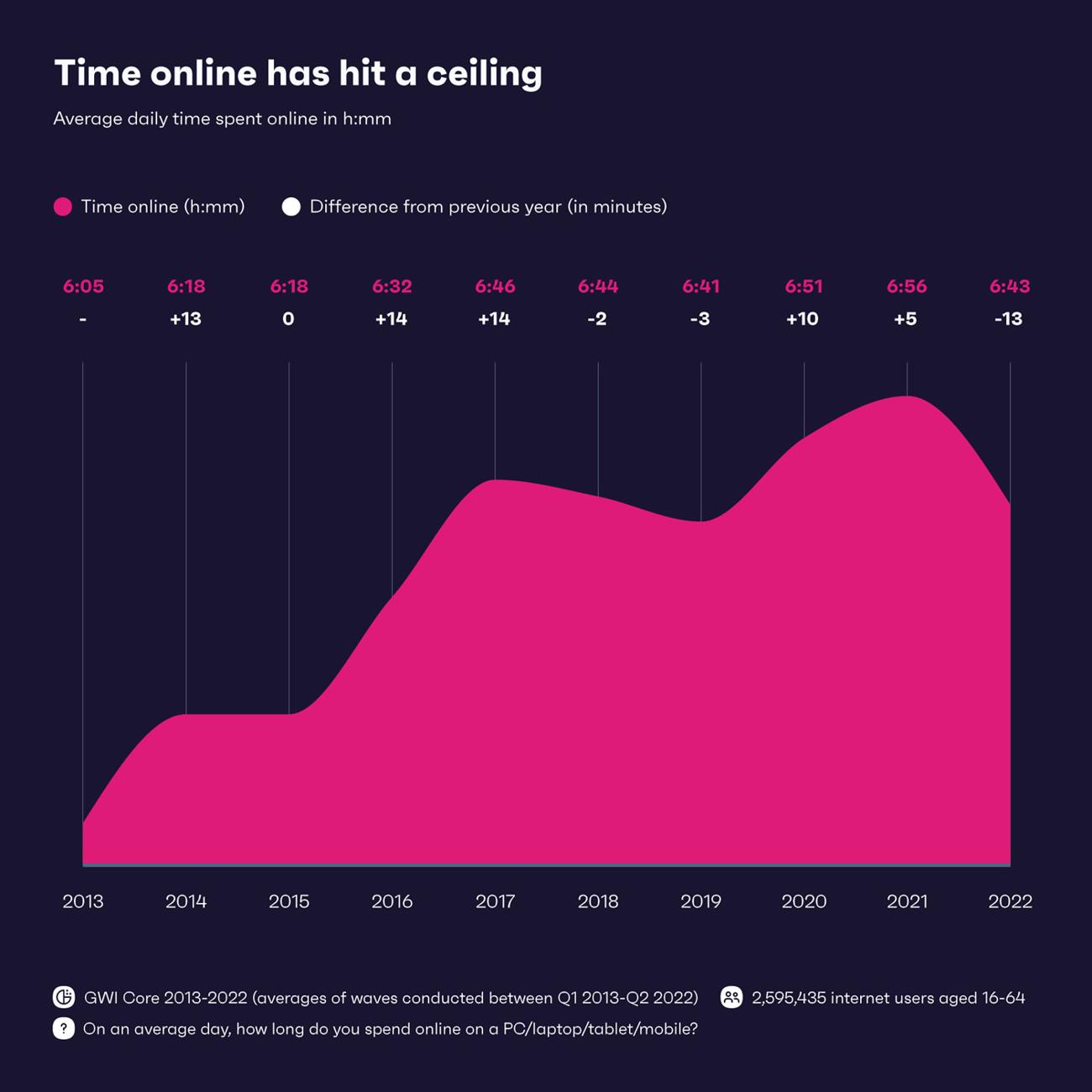 © Copyright CDW 2022

Pre-pandemic, time spent online was already declining — and new data suggests it may be plateauing post-lockdown. GWI reports, "Even in internet growth markets, time spent isn't increasing as it used to. In the Middle East & Africa, and Latin America, average daily time spent online has fallen by 20 minutes and 34 minutes respectively since 2021 – and this remains the case among younger audiences too."
The stats may seem bleak, but there are lessons to be learned from how people are still spending their time online.
How internet users are spending their time and money
Some online activities continue to hold user attention, like online gaming. But when it comes to general browsing, searching for information, and social media, people just aren't as interested as they used to be. In particular, business-related activities on line have shown significant drop off.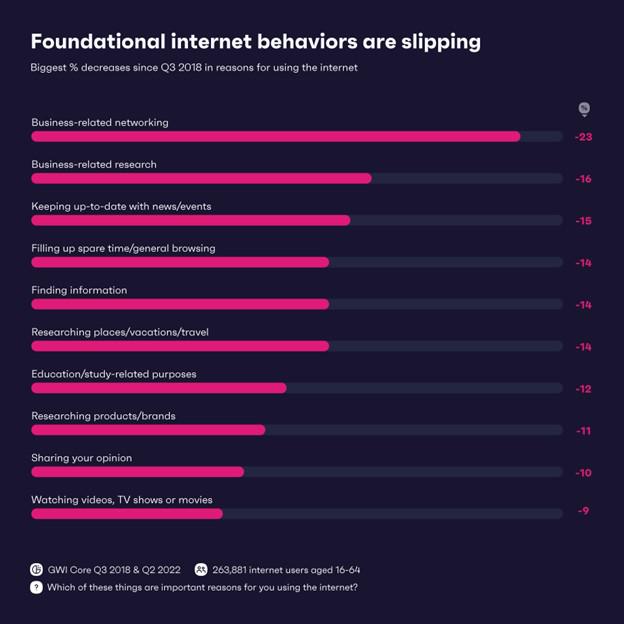 © Copyright CDW 2022


Deloitte's report "2022 Digital media trends, 16th edition: Toward the metaverse" shows that even popular activities, like streaming video, aren't safe from shifting trends. "Streamers and studios are challenged to attract and retain younger generations who have grown up with smartphones, social media, and video games, which deliver finely tuned experiences that are social, interactive, and immersive." The one-time disruptor has become the norm, and its business models have remained relatively the same over the past decade and a half.
Meanwhile, the web has been becoming increasingly social and interactive. The most successful sectors — such as online gaming — have kept up with this trend. As Deloitte puts it, "Gaming may have started as an individual experience, but it is now highly social." Game companies have evolved their business models and paths to monetization to capitalize on multiplayer gaming experiences, branded content, and virtual goods.
Streaming video on demand (SVOD) providers have not been as diligent about changing with the times, even as competition has increased from more and more media companies launching their own services. Customers are increasingly frustrated with losing content to rival services, poor recommendations, and the need to have multiple subscriptions. The result has been the much-publicized stalled growth of leading SVOD providers.
As with so many digital trends, young audiences are often the driving force behind change in the industry. These audiences churn quickly through SVOD subscriptions, love gaming, and only pay for what they want and need at a particular moment. In order to keep these users engaged, media companies will need to continue to innovate their offerings to keep up with the likes of TikTok and other social sites that provide constant streams of content for free
The quality of the digital experience matters more than ever
As web users grow savvier about how they spend their time online, the quality of their digital experiences matter more than ever. They expect the same custom, curated experience they encounter on social media sites. But experience goes beyond interactive buttons and finely-tuned algorithms that suggest personalized content. Companies need to rethink how they can monetize their content.
From offering more bite-sized subscriptions to grab Gen Z's attention to selling goods and services directly within social apps, companies need to continue to innovate and provide increasingly discerning customers with the experiences and options they are looking for.