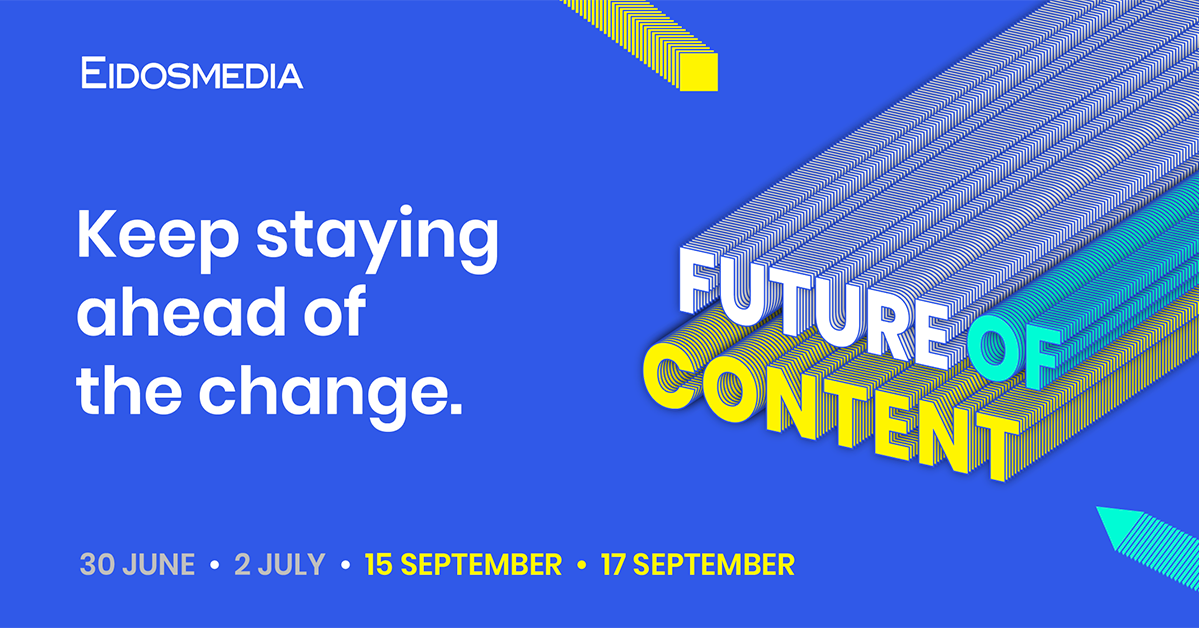 "Paradoxically, the health crisis has allowed us to welcome even more guests than usual to our annual event," said Massimo Barsotti, Eidosmedia CMO. "Nearly two hundred delegates registered for the first two sessions and we are expecting even more for the second cycle in September."
The Future of Content event aimed to replicate as far as possible the structure of the annual meeting, with keynote speakers, user stories from Eidosmedia customers and a look ahead to upcoming product developments. "To make up for the lack of a real-world lunch, we even sent an online meal voucher to each guest!" said Massimo.
This year's event kicked off with an interesting account of the use of machine-learning to extract risk indicators and other parameters of interest to financial analysts from large-scale news archives presented by Dr Jochen L. Leidner, Director of Research at Refinitiv Labs (Thomson Reuters).
On a topical note, Sylvain Coutu, CTO at Canadian daily Le Devoir, described the challenge of having to move the paper's entire newsroom into remote working mode in the space of a few days by fast-tracking the move to an Eidosmedia platform.
As Eidosmedia users increasingly move to cloud-hosted deployments, Carsten Zeug, Head of Managed IT Services, at MSP Medien Systempartner in Germany, described the advantages of shared cloud platforms as used by several Eidosmedia customers in Germany and the synergies made possible by such arrangements.
The guest speakers' contributions were followed by presentations outlining the digital transformation vision driving the evolution of Eidosmedia products and the innovative methodologies being used to develop them.
The hot topic of remote working was the focus of the demo session. The public health crisis has given new urgency to the need to break ties with the newsroom or office and this has resulted in accelerated uptake of Eidosmedia's Swing family of remote working apps. The demo showing how Swing's advanced mobile functionalities provide a viable alternative to newsroom workflows through highly coordinated distributed teamwork.
"Feedback on the first two sessions was very positive," said Massimo. "The annual gathering is an important opportunity for us to exchange ideas with our customers and partners and we were happy to see that the online format allows us to keep the ideas flowing, even when we can't meet face to face."
The second cycle of sessions will take place on September 15th and 17th.
For more details visit the Future of Content page.