If you know anyone passionate about Microsoft Excel, then you know conversations about its usage and limitations get emotional very quickly. This is especially true when you are discussing with a financial or a data analyst on how data can be used to create engaging visualizations for big data.
The open source advantage
In a fragmented market with many players offering several commercial solutions, the open-source option is becoming the preferred alternative among data scientists. Currently, the state-of-the-art solutions for open-source programming languages oriented toward data science are R and Python. Their large communities enable the continuous evolution and addition of new libraries and tools to their respective catalogs, allowing financial analysts to rapidly deliver innovative content to their customers.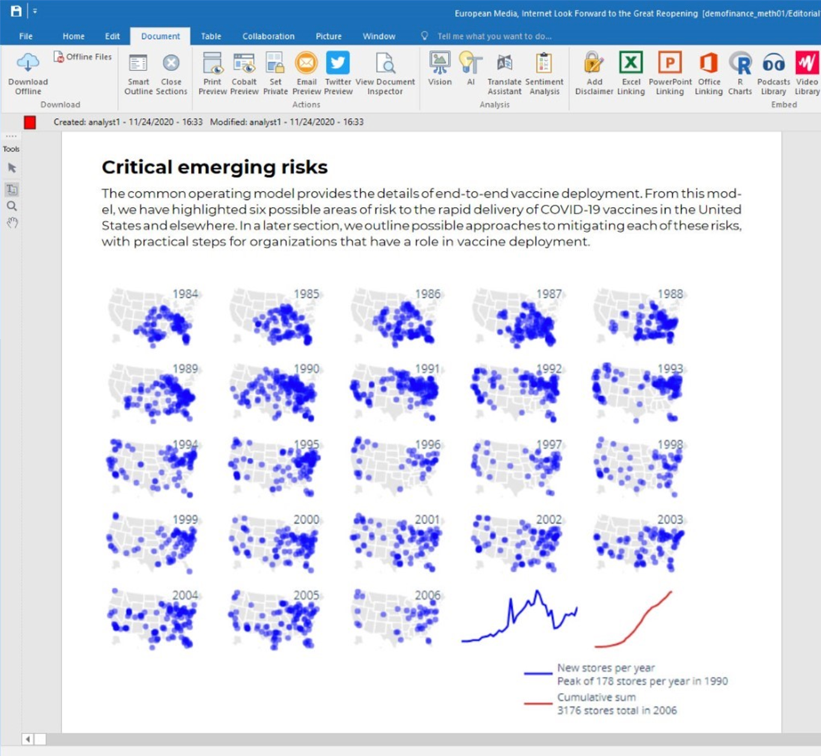 Locating and embedding assets
Workspaces for financial analysts need therefore to integrate these powerful tools so that analysts can embed data visualizations quickly and easily in their reports.
These are the must-have functionalities:
Search, locate and filter any asset (chart, table, diagram …) in a specific domain.
Insert the asset with a single click.
Import and re-use the underlying data set.
Update the asset to the latest version if it has been modified.

Cobalt delivers
Once ingested into the editorial workflow, the assets automatically receive the correct multi-channel rendering in all the desired outputs.
Distribution to the various destinations is handled by the Cobalt delivery module. The flexibility of this delivery channel opens up new monetization possibilities, such as:
A mobile app that brings together all the charts and tables relating to the performance of a specific company.
A newsletter with a 'chart of the day' feature.
A chatbot able to retrieve and display any visualization on demand.

Next: EOL - a general framework
The framework developed to import R and Python assets into the editorial workflow is known as EOL (External Object Linking). It's a highly flexible component and can be used to integrate the products of a wide range of external services into the editorial workspace. Next time we'll look at EOL in more detail.
Want to learn more about Financial publishing?
Read the case study: Financial Reporting & Analysis