For a while, the digital advertising industry was looking bulletproof. But now, after a decade of spectacular growth — which the pandemic scarcely touched — the online advertising market is slowing down. At the same time, the market is beginning to fragment as new entries challenge the dominant duopoly of Google and Meta.
The slowdown is just that: the industry continues to grow, but not as quickly. Insider Intelligence reports that after years of double-digit growth, 2022 saw just 8.6% growth, with spending still totaling $567.49 billion. Spending is expected to increase by 10.5% to reach $626.86 billion.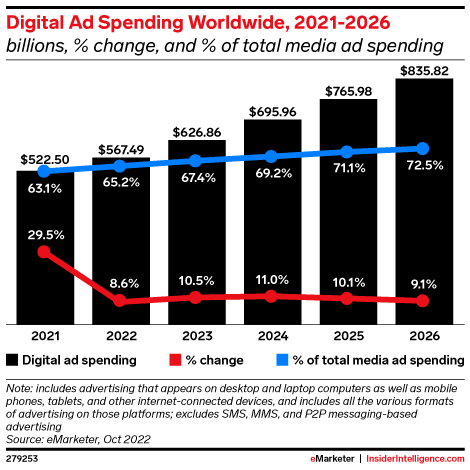 Why now? There is no simple answer.
A perfect storm of factors is shaking up the industry — and the call is coming from inside the house. This article will explore why the digital advertising industry is finally slowing down and what it means for online news outlets relying on digital ads for revenue.
The impacts of the digital advertising slowdowns
Digital advertising, as a term, encompasses a wide variety of formats. From search ads to mobile ads, from display ads to interstitial video ads, it's all encompassed under the umbrella of digital advertising.
In early 2023, according to Modern Retail, "Alphabet reported a 3.6% drop in Google's advertising revenue to $59 billion from $61.23 billion in the fourth quarter of last year." Meanwhile, Meta — the parent company of Facebook and Instagram — reported a fourth-quarter drop of 4.2% in advertising revenue. "The pace of growth in Amazon's advertising business also decelerated to 19% in the most recent quarter, compared to a faster 32% year-over-year gain during the same period last year."
The slowdown hasn't been limited to tech — publishers are feeling the pinch too. However, the reasons for the slowdown impacting giants like Meta and Google may ultimately be good news for news publishers.
Third-party data is under fire
General economic concerns are one of the factors impacting ad spend, but there are more significant issues driving revenue declines — especially for Google and Meta. Increasing concerns about online privacy are driving several changes in the industry, namely a switch in how and where advertisers can target potential customers.
The deprecation of Identifier for Advertisers (IDFA) and implementation of App Tracking Transparency (ATT) for iOS devices in 2021 changed how Apple users can be tracked in apps — giving them the option to opt out of tracking altogether. This greatly effects the level of targeting that apps like Facebook and Instagram can deliver — and therefore impacts revenue.
On top of that, the long-debated tracking cookie continues to inch toward its demise. As Invoca reported, "Firefox and Safari already block tracking cookies by default, and not only has Google's Chrome browser joined the third-party-cookie-blocking fray, the search giant has announced that it will not roll out alternative user-level ad identifiers to replace third-party cookies." As of right now, it looks like Google will finally kill off third-party cookies once and for all when the Chrome browser starts blocking cookies by default.
These changes are being driven, in part, by Gen Z. These digital natives are protective of their data and demand their privacy. But as third-party data becomes harder and harder to come by, contextual advertising is making a comeback. Publishers and other players with more first-party data have an opportunity to cash in with advertisers looking to continue targeting ads to specific audiences in a more privacy-friendly way.
The demise of the duopoly
New players in the digital ad space are also causing trouble for the once-dominant duopoly of Meta and Google. For instance, the rise of TikTok has forced a move toward short-form video, which is harder to monetize. As we reported in April:
"As Reels grew in popularity, they began taking engagement away from the Instagram Feed — which already had an effective monetization structure in place. TechCrunch reports that in an investor call for Meta's Q4 2022 results, Mark Zuckerberg explained: 'Currently, the monetization efficiency of Reels is much less than Feed. So the more that Reels grows, even though it adds engagement to the system overall, it takes some time away from Feed and we actually lose money.'"
It's not just the likes of social superstars like TikTok that are giving the duopoly trouble. Apple's ATT had also dealt the companies a significant blow — and began growing its own ad business. Appsumer reported that the number of mobile apps advertising on Apple's App Store grew 3.7% from the second quarter of 2021 to the same period in 2022 (a year after ATT went into effect). The number of apps advertising on Facebook and Google declined during this same period.
Bad news for social media-driven news

The slowdown in digital advertising has had a chilling effect on all players relying on digital ad revenues - especially online news providers whose income depends on a combination of social media traffic driving advertising earning.
For some whose business model was already shaky, it proved to be the last straw. Among the most prominent is Buzzfeed, whose news division was recently shut down and another digital-first news organization, Vice News, that has filed for bankruptcy protection.

But good news for publishers in general

While increased competition, combined with more scrutiny of tracking practices, has fundamentally changed the business models for products like Google and Facebook, it is likely to bring benefits for news publishers who have avoided excessive dependence on social media traffic.
'Behavioral targeting' has dominated much of the digital landscape for a decade or so, but as privacy becomes a bigger concern, contextual advertising is making a comeback — and consumers are happy about it. According to Digital Content Next, "Nearly eight in ten (79%) consumers report being more comfortable seeing contextual ads than behavioral. While more than three-quarters of all people are more comfortable with contextual ads, there are some generational differences: 84% of consumers ages 35 to 44 preferred contextual ads, while 76% and 75% of those between the ages of 18 to 34 and 45 to 54, respectively, preferred a contextual experience."
Armed with proprietary, first-party data, publishers are well placed to make effective use of contextual advertising and have a chance to re-establish themselves as leaders in the digital advertising arena.